Happy
Toddle Along Tuesday
! This week's topic comes from Katie at
Love, Lattes, and Lullabies
(whose blog and little boy are super cute). The topic is....A Day in the Life! What does a day in your house typically look like?
Since J and I both work full time, a typical weekday is quite lame.
6:00 am - J gets up to shower and then gets C up (if he's not up already).
6:15 am - They both get dressed, eat breakfast, and get packed up.
6:45 am - I get kisses from my boys and they're off to work and school.
(Yes, you should all be incredible jealous of my amazing husband that lets me sleep in while he gets C ready to go. He is basically the best ever. Ever.)
Fortunately, my hours are flexible and if I have a late meeting one night, I go in a little late the next day. Most days I'm in around 8:00 am, but some days I can arrive at 9:00 am. Woo!
8:00/9:00 am - Meetings, meetings, and more meetings with a dash of email, phone calls, and walking back and forth across campus. Good thing I love my coworkers and students or this would be a very boring job.
4:00 pm - C and J get home and stop by my office to say hi. My favorite part of the day! J starts dinner while C winds down from the day.
4:30/5:00 pm - I come home if I don't have any late afternoon obligations. C and I play and clean up the living room while J finishes dinner.
5:30 pm - We have dinner, clean up, and pack lunches for the next day.
6:00 pm - If we have quick errands to run, we would do it now, but much prefer to stay at home and play with C before bed.
7:30 pm - C's bed time. J brushes his teeth and I read him a story before bed. Lately, he's been staying up later for some reason, but generally he's pooped by 7:30.
8:00 pm - Time to tidy up the house, do laundry, and/or generally veg on the couch until bed time (between 10:00/11:00pm)
The weekends, are a very different story. Though we do end up traveling a lot to see family and friends, we cherish our weekends and try our hardest to do things together. This past weekend was a nice quiet few days at home doing some spring cleaning and working on the back yard...er...patio.
On Sunday, I took a turn waking up with C so J could sleep in (See? I repay the favor!) We got up around 6:00 am, had breakfast, and played until around 8:00 am when J was awoken by the worst kind of alarm clock...
"I think you need a diaper change, C. Oh....dear.....God....its....everywhere!!
I can't even get your pants off safely! You need a bath...."
In his half asleep stupor, he got up and turned on the water for us before I even made it to the bathroom. What a great Dad. After that was all figured out, we headed out to Lowe's to pick up the rest of the gardening supplies we needed.
After lunch, C took a three hour nap (I know, crazy, right?) and we worked on the back patio. I spray painted some ugly old pots we had, planted some flowers, and set up our shoe rack herb garden. Hopefully, stuff grows this year. ::fingers crossed::
C joined us in the late afternoon and it was so beautiful outside, he played in his water table as we sat on the porch swing sipping iced coffee. Doesn't get much more perfect than that.We even ate dinner outside and enjoyed the amazing summer-esque breeze. Why can't every weekend be like that?
Once we get rid of a few stray cinder blocks, sweep, and set up the grill and C's baby pool, we'll have our own little pavement paradise.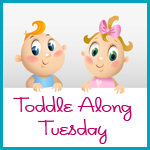 What is a typical day like in your house? Head over to
Growing Up Geeky
and join today's blog hop to share your story and read about some others!