This post is pulling double duty. Firstly, its Tuesday meaning there is a new topic for Toddle Along Tuesday over at
Growing Up Geeky
! This week's post idea comes courtesy of Kacie at
Chasing Fireflies
.
This week's topic is babies and their daddies. A few weeks ago, I made a post of all of
my favorite pictures of C and J
, so check it out! There's only been one addition to the Charlie/Daddy hall of fame since then...
::sigh:: I love when they cuddle and read together. Melts my heart!
Check out the Toddle Along Tuesday blog hop to see lots of other cuddly baby and daddy pictures!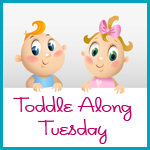 Secondly, its somehow almost March (not sure how that happened) and that means new monthly swap sponsors! If you're interested in having your button on my side bar and being part of my monthly sponsor shout out, email me at misscraftiepants (at) gmail (dot) com!
The idea is that we swap buttons and support each others blog free of charge for the month. Its a win-win situation for growing blogs. Let me know if you're interested!