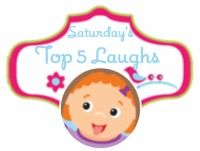 Today I'm linking up with
The Mommyhood Chronicles
for
Saturday's Top Five Laughs Blog Hop
- a culmination of the week's funny/cute kid moments.
5. For the past few weeks, C has been able to point out where his nose is when asked. Yesterday, however, he came up to me and touched his nose (unprompted) and said "no" (how he says nose). I thought that was cute - then he touched my nose and said, "Mama. No." While I'm not counting that as a two word "sentence" - it definitely melted my heart.
4. This week we realized that the kitchen towels on the oven handle aren't safe from the C monster. He pulls them down and puts them on his head like a baby babushka.
3. Yesterday, I pulled some toys into the bathroom and hoped C would occupy himself while I took the fastest shower ever. Instead, he spent the whole time playing peek-a-boo with the shower curtain. Cute. Slightly awkward, but cute.
2. Mama was C's first word. Apparently he's gotten it all out of his system. This is the conversation we had the other night. "Say Mama!" "Dada." "Mama." "Dada." "Ma." "Da." He thinks he's just hysterical.
1. We're trying to teach C to color without putting the crayons in his mouth. Thursday night, we were sitting on the floor coloring and anytime I'd look away, he'd slowly move a crayon to his mouth - with his eyes on me the whole time. When I'd look at him, he'd pull it away. Little stinker.