J has his Magic the Gathering cards and I have my fabric. Its a mutual agreement of I don't ask about what he spends on his hobby and he doesn't ask about mine - as long as its within reason of course. Whenever he buys new cards or I get fabric back from
an iSpy Swap
, its the same reaction. We sit there going through our stash ooh-ing and ahh-ing our collection leaving the other person wondering what the heck the big deal is. Cracks me up.
I recently participated in another iSpy fabric swap with Linnea over at
Flynn 'n Fabric
and got my fabric back on Friday. So much awesome stuff!
I sent in 20 squares each of 10 different fabrics (conversation hearts, shamrocks, chili peppers, alphabet, cooking supplies, Mardi Gras, dinosaurs, sparkly cupcakes, butterflies, and states) and got back 200 distinctly different 4"x4" fabric squares.
Even more exciting was that I now have enough to make C's all black iSpy blanket! Here is the one I'm
using as inspiration
made by Care over at
Obsessively Stitching
. I absolutely love the pop of the colors on the black background and especially love the bright teal border. I can't wait to get started!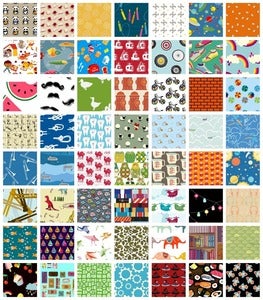 I also recently came into possession of a beautiful collection of Spoonflower Fabric squares from
Crafterhours Shop
that are to die for. Mustaches, fire hydrants, rainbows, watermelons, sushi, smiley teeth...the most random, cool iSpy fabrics I've ever seen. Though beautiful and very high quality, Spoonflower Fabrics are crazy expensive (upwards of $16/yd.) and when you only need a small square can be seriously out of price range. A huge thanks to Crafterhours for buying yardage and cutting it into these little kits. Saves money and time!
One of these days, I'll stop collecting and actually start the twin sized blanket I intend to make for C's "big boy bed." Hopefully, it'll be done by the time he actually gets into said big boy bed. I've got to have over 500 squares at this point! How do I know when to stop collecting and start sewing?!