Happy
Toddle Along Tuesday
! This week's topic comes from Libby at
ELF: A Family Blog
. The topic is.....nursery! What does your little one's room look like?
This topic got me thinking; I could be wrong, but I don't think I ever shared pictures of C's new room after we moved! In our old apartment, C's room was a gender neutral farm animal print.
I spent a good chunk of my pregnancy sewing/making all of the pieces and while it was cute and bright, once he was born I hated it. I wanted a boyish room! When we moved, it was my chance to start over.
While on one of my many prepping for baby Target trips, I perused their Dwell Studios bedding section. Nothing gender neutral that I liked, but a beautiful, almost geometric rocket ship pattern caught my eye. I begged J to let me buy it just in case, but it was pretty expensive considering I had originally planned to make it all myself. I was genuinely sad, but it was true - we had no idea what we were having and Target's return policy is horrible.
After he came home, we realized he wouldn't be sleeping much in his own room for a while. The farm animal nursery was an unfortunate waste. Oh well.
As time went on, I knew it would be harder and harder to find the pieces of the rocket ship bedding set. Luckily, friends of mine from various places found and sent us pieces we were missing! Bumpers and quilt from Georgia, sheets from Pennsylvania...it was a wonderful surprise! C would have
my
his dream nursery!
When we moved, I was able to really put everything together and finish several projects I'd wanted to do to complete the room. In addition to the bedding set and a coordinating area rug, I made him
wall art
,
a clock
,
growth chart
, a memo board, and
bunting
to complete the look.
For book and toy storage, we bought an 8 cube shelf system with fabric drawers. At first, we had it laying down (4 across, 2 high) to make everything super accessible for C. Once he got a bit more mobile (and we needed more room for bigger toys), we turned it to standing (2 across, 4 high) and moved around some of the furniture. His crib moved across the room and we put the book case and glider under the bunting.
Its not a complete picture (I forgot to take pictures before C went to bed), but you get the idea. I'm hoping to paint soon to pull it all together. I want to make three walls light blue and one a slightly darker blue.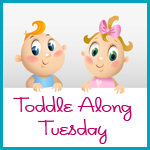 While it was fun designing and setting up two nurseries, when we have kid #2, we WILL be finding out the gender so hopefully we can settle on one nursery theme and stick with it. ;-)
Check out the Toddle Along Tuesday blog hop over at
Growing Up Geeky
to see lots of adorable nurseries!