February is the month of love, so why not send some to this month's sponsors by stopping by!

Building Our Story
My name is Censie (said like Kenzie).
I am the author of Building Our Story, this blog started as a journal for myself back in September 2009. Pretty soon it turned into a Trying to Conceive blog, then a pregnancy blog and then a parenting blog – and soon we hope a Trying to Conceive #2 blog! This website has become a great part of my life. I love updating it and using it to track all of our family's big events and milestones.
We love doing fun reviews and giveaways too so make sure you stop by and say hi!
Courtious Curtis and The Parents
Our blog is about journal about family memories, sharing recipes, trails of trying to conceive baby #2, sprinkled in with some random (and most likely embarrassing) stories of my attempt at being a stay at home Mom.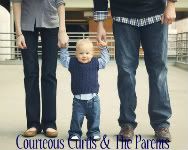 Her world. My blog. Our life.
Although it may be Leilaland, I am not just along for the ride. Join me as I conquer my role as stay-at-home Momma. I'm learning to live in the moment, appreciate the small things, and laugh at myself along the way.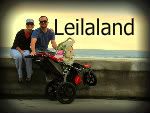 Want to be jump in and be a swap sponsor for February (or another month)? Email me at misscraftiepants (at) gmail (dot) com!